High Speed Internet Initiative
Recently the Federal government released billions of dollars for the construction and operation of rural broadband networks. The money is awarded by a reversve auction, the carriers bid on service areas and if they have the lowest bid they are awarded the grant to build out service in that area. The process is call "Rural Digital Opportunity Fund" (RDOF) details can be found on the website. Two carriers won the right to build out in Harris, CenturyLink recevied the majority and WindStream picked up a small area. The areas to be built out are listed on the map below right.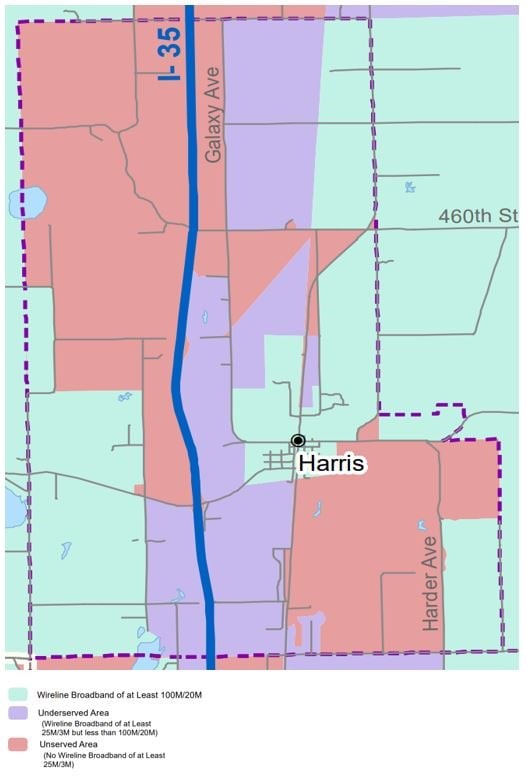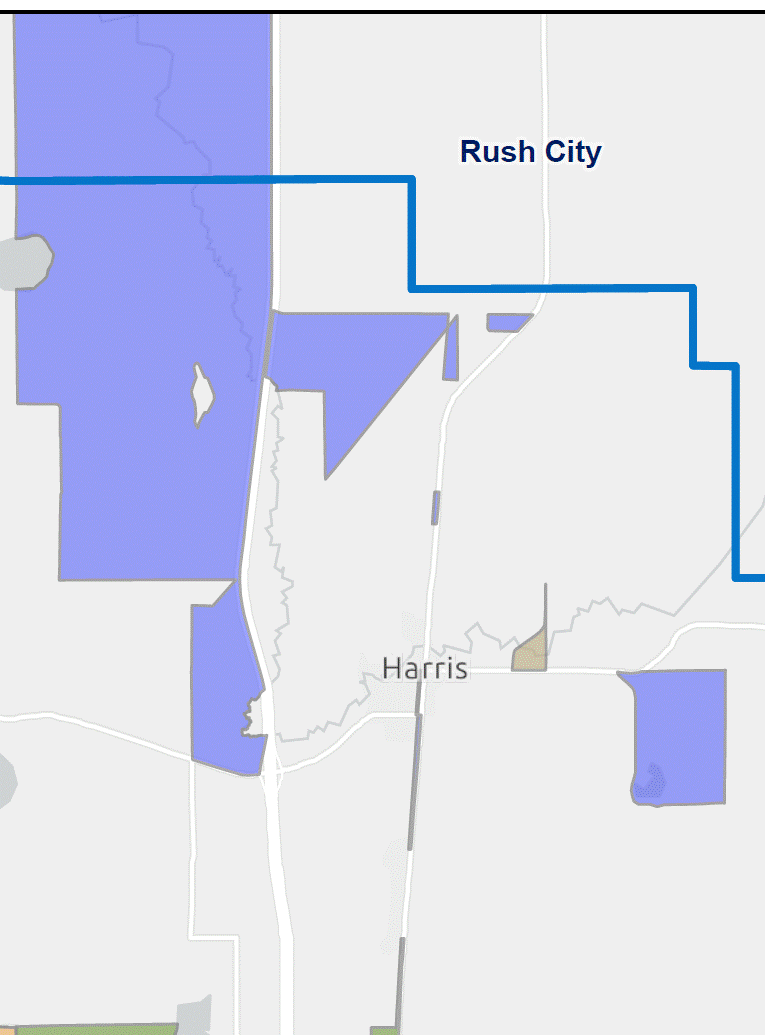 The map on the left is from the 2020 State Infrastructure Grant - Unserved and Underserved Areas,
The map identifies areas with useable internet acces (light blue), areas of slow internet (purple) and the areas of no internet (clay). The map on the right, is from the RDOF website and shows areas that will get 1 Gig fiber to the home internet service. When you compaire the two maps you can detirmen the areas that are still in need of Internet services.
Timeline of RDOF buildout.
2021 – design and engineering
2022 - RDOF funds are released, construction begines.
2023 - By the end of year 3, providers are required to have built out to 40% of the required locations.
2024 - 60% by the end of the 4th year.
2025 - 80% by the end of the 5th year.
2026 – Close out project.
It is good news we are getting Broadband built out, bad news is there are still some areas in Harris that will be not have usable internet. We have contacted CenturyLink and WindStream, the two RDOF winners, to determine the feasibility of seeking a state grant in the Harris area to expand internet access. Initial conversations are good, either carrier could use the RDOF funds to build a "backbone" network, this would reduce the cost of further build out. Also the latest round of Federal Coivd-19 Relief funding includes direct aid to cities, it's possible we could use some of these funds to improve internet access in our community. The use of federal grant money in combination with local (Covid) funds makes it more attractive for state grants, increasing our chances of receiving a grant.
Besides contacting CenturyLink and WindStream about possible grant application we also are watching other options in neighboring cities.
We contacted MidCo to determine if they had interest in expanding broadband service in Harris. Because they did not receive any RDOF funds in our area they are focused on areas that did. They did not rule out the possibility of expansion in Harris, but it is not a priority at this time.
Areas of North Branch had RDOF funds given to Space Exploration Tech. Corp. (StarLink) to provide "Above baseline, low latency" service. This is slower than fiber to the home but faster than average service available. The service uses dishes pointed at satellites to provide internet services. Initial price for 100Mb service is $99 a month plus a one time cost of $499 equipment cost. We are Looking into possibility of this being accessible in the Harris area.
One other option we are watching is North Branch's "Fixed Wireless Internet Solution". North Branch is constructing several towers including utilizing their water towers to have line of sight access to all homes. This would be similar to StarLink, user would need to purchase equipment including a dish, but it would have lower propagation delay because it would be connected to a tower instead of a satellite. It's possible that with the City of Harris updating the water tower we could add Fixed Wireless as a possible internet option in the future.